A painting of bright red chilies hangs in the boss's office at Centrexion Therapeutics. A wreath of the spicy peppers sits on the desk of the company's chief scientist. Chilies in one form or another seem to be everywhere at the company's Baltimore headquarters. Led by former Pfizer Chief Executive Officer Jeffrey Kindler, Centrexion is developing a new generation of nonaddictive painkillers, and hot peppers could play a role.
About 100 million Americans suffer from chronic pain—more than those living with diabetes, heart disease, and cancer combined, according to the Institute of Medicine. "People for the last 100,000 years have been chewing or smearing or smoking or trying agents in their environment to relieve pain," says Daniel Carr, president of the American Academy of Pain Medicine.
Many people in pain turn to opioid-based drugs such as OxyContin, which are a leading cause of drug addiction and overdose deaths in the U.S. Narcotics, including heroin, were responsible for more than 28,000 deaths in 2014, according to the Centers for Disease Control and Prevention, which figures at least half involved a prescription drug. The resulting burden on the American economy is $635 billion a year in medical costs and lost productivity, according to the Institute of Medicine. "When we talk about chronic pain, like chronic low-back pain, physicians feel like they only have one bullet in their toolbox that works for many, many patients," says Michael Oshinsky, program director for pain and migraine at the National Institutes of Health, about opioids.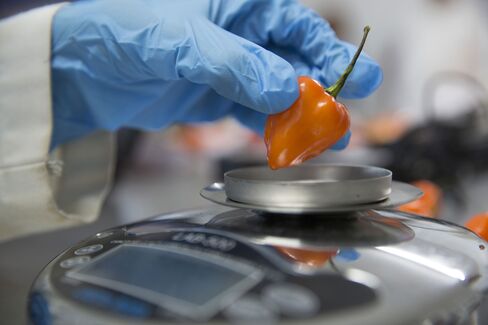 The pharma industry has struggled to come up with alternatives. No fewer than 33 experimental medicines for chronic pain went into clinical trials from 2009 to 2015, and all failed, Oshinsky says.
The problem with narcotics is that in treating pain they affect an area of the brain that registers intense pleasure. Centrexion's drugs are designed to target pain directly, without triggering the brain's reward system. The company is developing an injectable drug to treat arthritis and foot pain that contains a synthetic version of capsaicin, a substance in chili plants. It's the furthest along of five drugs Centrexion has in development and could hit the market by 2020. "Truthfully, there aren't many, if any, really safe, effective chronic-pain treatments that have good duration, good safety, and nonaddictive properties," Kindler says.
Other companies working on non-opioid pain relief include Hydra Biosciences of Cambridge, Mass., and Heron Therapeutics of Redwood City, Calif., which are targeting diabetic and postoperative pain, respectively. Pfizer and Eli Lilly last year resumed late-stage trials of a non-opioid medicine for arthritic pain, which they halted after the U.S. Food and Drug Administration raised concerns that the entire class of drugs might have side effects on the nervous system.
Kindler has kept a relatively low profile since abruptly retiring from the top job at Pfizer in 2010, at the age of 55. At the time, he said he needed to "recharge" after a "period extremely demanding on me personally." His more than four years as the head of America's biggest pharma company were difficult ones: Pfizer's top-selling drug, Lipitor, was on the eve of losing patent protection, while promising treatments for cholesterol and Alzheimer's failed in trials. In one of the higher-profile moves of his tenure, Kindler bought rival drugmaker Wyeth for $68 billion in 2009.
Since moving into the CEO suite at Centrexion in 2013, Kindler has taken up development of a topical lidocaine gel for muscle pain and painful skin conditions. The benefits of working with ingredients like lidocaine, used in dental work, and capsaicin, available as an over-the-counter topical pain relief cream, is that their side effects are well understood, says Kerrie Brady, the company's chief business officer.
Centrexion has also acquired three drugs from Boehringer Ingelheim that target different forms of chronic pain. One works on the same receptor that a cannabinoid targets but without the mind-altering effects that marijuana-derived medications sometimes exhibit. "There hasn't been a lot going on in the pain space," says Brady. "There really hasn't been a lot of innovation out there."
The bottom line: Some 33 experimental therapies for pain failed in trials from 2009 to 2015. Centrexion thinks it can beat the odds.
---
---
Link original: http://www.bloomberg.com/news/articles/2016-06-27/chili-peppers-could-free-us-from-opioids?bcomANews=true